Shadow Snapper
Item №:

8079

Pieces:

246

Minifigures:
Exclusive Key:
Price:

US $29.99

Ages:

7 - 14

Released:

January 4, 2010

Theme:
Background
Edit
The set 8079 Shadow Snapper is an Atlantis set released in 2010. Included is Lance Spears, the Snapper, and a Monster Turtle. Also included is an exclusive Turtle Key. There are 246 pieces.

This is a description taken from LEGO.com. (visit this item's product page)
---
Keep an eye on the shadows when this Atlantis guardian is around!

Covered in armored spikes and bristling with razor-sharp claws and teeth, the ferocious, amphibious Shadow Snapper is a deep-sea diver's worst nightmare! A super-fast combat sub with dual flick-launching torpedoes is the Deep Salvage Crew diver's only chance to get past this lurking leviathan and retrieve the yellow Atlantis treasure key…but will even this high-speed sub be quick enough for him to escape with the prize? Includes deep-sea diver minifigure.
Includes Shadow Snapper, combat sub and diver minifigure!
Yellow Atlantis treasure key included! Collect them all!
Fire the sub's dual flick-launching torpedoes!
Super-fast sub's propeller really spins!
Snapper measures 8" (20cm) long! Sub measures 5" (12cm) long!
This so far is the only Limited Edition Atlantis set to date.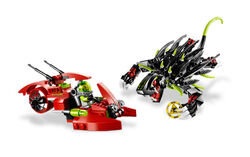 This page uses content from Brickipedia. (original version)