Diver Skeleton
Theme:
Accessories:

Gems

Years:
Appearances:

Diver Skeleton is a Skeleton of a Diver that was killed at the Shark Castle several decades (Or years) ago. He/She wears an Aquaraider helmet, meaning that he/she might have journeyed here at some point and died at the left Golden Gate.
Another reason that this Diver skeleton could have been part of Aquaraiders is that the Skeleton was holding gems, and the Aquaraiders were looking for treasure.
The minifig may have nothing to do with Aquaraiders, it may be just that Lego chose that helmet for the diver to wear. And it couldn't wear a Airtank Helmet since only members of the Deep Sea Salvage Crew wore those, and there were only six members of the crew.
This is the same minifigure that appeared in Aquaraiders 7775 Aquabase Invasion.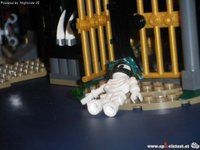 Appearances
Edit